Bali Trekking Adventures divided into several sections, such as Bali Jungle Trekking, Bali Secret Garden Trekking, Bali Volcano Trekking, and Bali Highest Peak Trekking. For adventures trekking which are outside Of Bali Island we have trekking adventure to Kawah Ijen or Ijen volcano, Bromo Volcano, and also Trekking at komodo Dragon or Flores island.
---
Bali Volcano Trekking located in Kintamani is one of the most actively promoted attractions in the island of Bali now days. It is a vast mountain an eruption of massive proportions blew off its top leaving a huge caldera in which three peaks are located. One is the active volcano of Batur and the other is the non-active of Batur Caldera. The uniqueness of the area's characteristic is a reminiscent of a moonscape rather than anything related to the earth offers such breathtaking experiences, like observing sunrises and gazing into the volcano's crater. Both Mount Batur and Caldera Batur provide very easy climbing experience in Bali. Please see the details of this adventure HERE
Very popular trekking, Will recommended to those who want to see an amazing sunrise.
---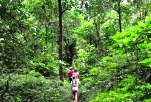 Bali Jungle Trekking is an exciting trekking adventure to bring you to the wonderful experience on your holiday in the Jungle Mountains of Bali. We will take you to the peaceful place where is far away from bustle, re-siding in the middle of jungle which is fully planted by multifarious flora and fauna. The dense forest is the home of many kinds of birds and other fauna, which live harmoniously in their habitat. Your holiday will be completely unforgettable one if you have this experience in Bali. Please see the details of this adventure HERE
Will recommend to those who want to see and flora and fauna. Back to nature, is the motto of this adventure.
---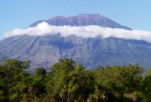 Bali Highest Peak Trekking located in Mount Agung east side of Bali Island. Mount Agung Bali stands 3,142 meters above sea level, can be summitted by physically fit hikers about 3 to 4 hours from Pasar Agung Temple starting point and 5 to 7 hours from Besakih Temple starting point. If you want to be a challenger adventure tours who thinks that trekking or climbing is spectacular, this trek will be good choice for you. Climbing Mt. Agung with Bali local Mountain Guide will help you to discover the atmosphere of the spirituality ground and see more things up closer than just about anything else. Please see the details of this adventure HERE
This adventure recommended to those who have already experienced trekking and reserve the good stamina.
---