What the adventure look like?
Bromo Volcano Trekking usually done or started from the island of Bali. Pick up at 8 am from the hotel. It took approximately 2, 5 hour journey to the port of Gilimanuk and then continued across the sea to the island of Java, which is approximately 1 hour from the island by boat Ferry. Different shades can we feel when entering the East Java region. Stop for a moment on a place to eat lunch makes us feel the air and the conditions on the island of Java. The journey continues towards Mount Bromo which approximately takes about 5 hours of driving.
2 days 1 Night Bromo Volcano trekking
Arriving at the hotel in a small village near Mount Bromo, we can rest for a while before starting climb the summit of Mount Bromo. While relaxing, we can see the beautiful view of the mountains that are surrounding the Mount Bromo. The journey begins in the morning at around 3 am. At that time, the guide will pick us up from the hotel and leads us toward a place where the beautiful morning sun can be seen rising in the morning. The tourists from many different countries who come to this place to see the sunrise.
Driving Into Slopes
By using a car with 4 wheel drive, travelers will be invited to enjoy the adventure of driving on the track towards to Mount Bromo. This car enought for maximum 4- 5 people only. Sandy and dusty roads made ​​getting exciting adventure.
Riding a Horse
Arriving on the slope of Mount Bromo, we ride a horse to get the stairs of Mount Bromo. Guides will always lead the horse to keep travelers feel comfortable and safe on the way to the summit of Mount Bromo and back. We also would climb the stairs to reach the top of Mount Bromo
Back To Bali
Satisfied visit these places, We will back to hotel where we stay to prepare all stuff and our professional driver will take you back to the island of Bali. Obviously you will still be able to enjoy your lunch at a place near the harbor after the completion of the Bromo Volcano Trekking.
What to bring?
Modest clothes, Camera, Hat, Sun screen and cash.
Price:
US$ 269

net/person - min. 2 people

Single Traveler:

US$ 530

net
Rates are Inclusive :
Air-conditioning land transportation
Lunch
Boat Ferry Ticket
Accomodation
Horse Riding Ticket
4 Wheel Drive transfer
Mineral Water
Guide fee
Rates are subject to High Season Surcharge!
Please do not hesitate to contact us if there information that we provide is not clear.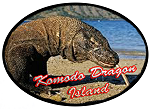 The Komodo dragon is a large species of lizard found in the Indonesian islands
.